Fox Terrier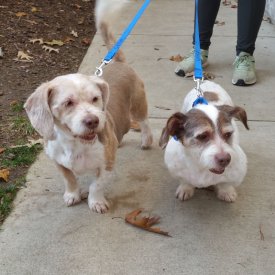 Adoptable
Small
Spayed/Neutered
Up-to-date with routine shots
April 30th -- NATIONAL ADOPT A SHELTER PET DAY
This day was created as a way to raise awareness for thousands of pets that are waiting for (and needing) adoption from the shelters and rescue organizations.

Animal shelters and rescue organizations require year-round assistance. Adoption is a part of the process. Animals come in daily, and the volunteers work quickly to ensure the animal's health and well being so they can be adopted into their forever home. On National Adopt a Shelter Pet Day, visit a shelter near you and find your new fur baby. Visit with the shelter to consider all the needs the dog or cat requires for the long term.

If you feel you can't meet those needs, consider adopting in another way. Give your time by volunteering. Not only will this help the shelter and rescues by providing the animals exercise, companionship and socialization, but it also gives you that wonderful animal love we all so enjoy. #AdoptAShelterPetDay ...
Load more
© Roxie's Fund - Helping Abused and Homeless Animals
© 2019 Roxie's Fund
-
Helping Abused and Homeless Animals