Meet Hummer.
Can you believe that somebody OWNED Hummer?
You would expect a dog that looks like this to have been wandering around stray, scrounging for food simply to stay alive.
No, Hummer had an owner.  She tied him outside with no shelter, food or water.  She let him starve.  Finally, on a night where the temperatures got down below 0 degrees, a concerned neighbor called Animal Control and Hummer was saved!
Hummer's luck then started to change for the better!  A foster home came forward immediately who wanted to help Hummer – that is a rare thing!  So, Hummer now has a warm bed to sleep in, and a loving foster family to help him heal.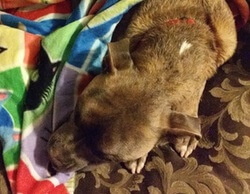 He has a long road ahead – he has intestinal parasites and recovering from starvation is not as simple as just eating a lot.  But, with time, Hummer will heal.  And, through it all, his loving personality has shown through.
A dog that was treated so cruelly is ready to forgive and forget and shower his new home with all the love he has to give.
Click here to donate today.
Click here to return to Urgent Dogs.