Wood and Growl.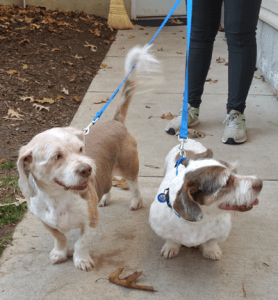 Meet Woof & Growl. These lovable bundles of fun are just waiting for a "forever" home where they can be part of a family, relax in their Golden Years and give you all the love you can ask for.
Their previous owner could no longer take care of them, and now in their Golden Years find themselves homeless. They have been shuffled around and around until they are now with Roxie's Fund. Woof is a high spirited dog. He does have difficulty hearing, but that doesn't seem to slow him down. Growl has some limb dysfunction loss in his back hind legs. He can definitely move about and one generous donor donated a wheelchair which you can see him in here
Donations are greatly appreciated for the ongoing care of these two adorable pups. They LOVE to go on walks, hang out, and just relax. They are warm and fuzzy and would love to have a home again to call their own.
Click here to donate today.
Click here to return to Urgent Dogs.