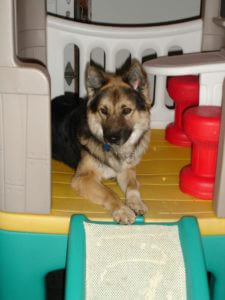 Meeko was a very special dog rescued by Roxie's Fund in early 2007 described as "handsome, with a great personality".  Meeko was one of the lucky ones, not a special needs dog, but just like the many dogs, looking for a loving "forever" home and a second chance at life.  Roxie's Fund received several applications to adopt him and evaluated each adopter to find him the best match and home possible.
Dave and Linette Golden from Silver Spring, Maryland knew when they first met Meeko that he would be the perfect dog for them. Dave and Linette had two pet rabbits, who lived in a secluded bedroom, but Meeko showed no prey drive or interest and never tried to nose his way into where he wasn't invited. Meeko loved all dogs and humans alike, making friends with his cousin Sasha the Siberian Husky and his friends at doggy day care. He was gentle and affectionate and loved being petted between his ears in exchange for some puppy kisses.
Meeko was an adorable, long-haired German Shepherd mix, (possibly with Finnish Lapphund?) whose fluffy, curling tail was his most distinguishing feature.  When he was younger, (adopted around 2 years old,) he would zoom around the house with happiness, leaping on and off furniture, ending in his pounce stance. He had a large fenced backyard but when deer were around he would somehow gather super-dog strength and leap the fence to go run after them (he never caught one!). He loved going to the dog park to socialize and get in some great play time. He was one of the most friendly and sweetest dogs you could ever meet. Mr. Meeko attended formal animal rescue charity events in his doggy "shirt and tie" and always asked politely for treats, following his Sit and Paw commands.
Thank you to Roxie's Fund for rescuing Meeko and for bringing him into our family. We loved him for 9 years and were so lucky to have had his love and cuddles in return!
Dave and Linette Golden
Click here to donate today.
Click here to return to Urgent Dogs.