This is Kiara.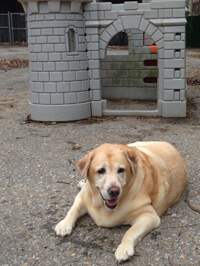 Roxie's Fund received a phone call one evening to please come and help Kiara. Kiaras owner had fallen very ill and could no longer take care for her. Well to our disbelief upon going to meet Kiara, we saw how extremely obese she was. Kiara was so large with extra weight she could hardly walk let alone go up and down stairs. After making sure Kiara was otherwise healthy with proper vaccines she was immediately put on a healthy and stringent diet and supplement program to start to get her excess weight off. We also slowly increased her exercise to help rebuild her muscles.
Over the next 6 months, Kiara has dropped almost half her body weight. She came to us at an alarming 133lbs and on her last vet visit was down to 71.1lbs.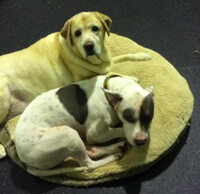 Kiara has come a long way, but now we have some other obstacles. Even with the dramatic weight loss, Kiara still had some difficulties walking. We did a full x-ray panel on knee's and hips, and unfortunately due to the years of obesity, Kiara's knee cruciates and hips were in bad shape. She has bone deterioration and hips out of socket.
The orthopedic surgeon recommended knee surgeries and hip surgeries to make Kiara good as new! Kiara's treatment is expensive, to the tune of about 7500.00. With the help of all our volunteer's and supporter's we know we can give Kiara the opportunity to experience life as she never has before.
Click here to donate today.
Click here to return to Urgent Dogs.