This is Tia.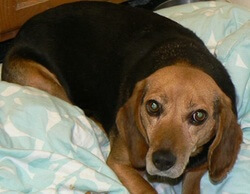 Tia was given up to a shelter when her elderly owner could no longer care for her.
Sadly not only was Tia terrified in the shelter, but she tested positive for heart worms. Fortunately, this life-threatening infection can be treated, but it is time consuming and costly.
Tia is fortunate to have a Roxie's Fund foster home to see her through her treatment and help her on to life as someone's beloved pet.
Click here to donate today.
Click here to return to Urgent Dogs.